Are you planning a romantic or daring getaway with your partner in Cancun? The city of Cancun is ready to welcome and satisfy all kinds of travelers with their vacation needs, and if you want to know which are the best hotels for adults in Cancun, so you can come and enjoy a few days with your partner, then keep reading our recommendation of Playa del Carmen Transportation.
[top]
Best adult hotels in Cancun
From hot theme night parties, swinger parties, and even nudist areas is what the adult hotels in Cancun have to offer. But of course, not only do they invite us to awaken our most secret dreams, they also have romantic areas to rekindle the flames of love.
So if you are looking for exclusive hotels for adults where you can spend your pleasant vacation days in Cancun, check out these 5 options.
Temptation Cancun Resort
Our short list of adult-only hotels in the city starts with the Temptation Cancun Resort. It is located at kilometer 3.5 and is a 5-star, luxury, all-inclusive hotel.
Since its origins, the Temptation hotel became the favorite place for all people looking for a lot of fun every day, because as its own page indicates: Here the party lasts all year long.
Among the things we can find in this adults only, we have the topless areas where you can free yourself from tops and tan lines in a vibrant, liberating, provocative environment and of course you will enjoy the beach and topless pool areas where you can experience something totally new.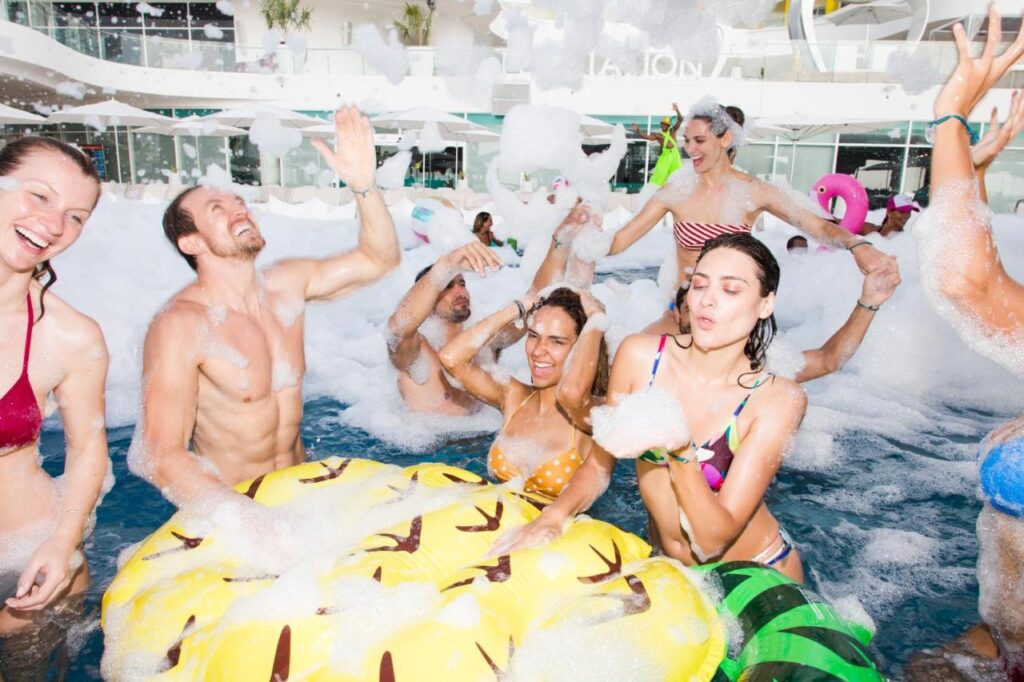 Being an all-inclusive hotel and full of a party and active atmosphere, you will have an exclusive and attractive entertainment program with guaranteed fun for adults during the day. As if that weren't enough, you can also enjoy water fun with our superior non-motorized activities: single and double kayaking, paddle boarding, wind surfing and hobbie cat.
And the party doesn't stop at night, as the nightly entertainment team has the perfect atmosphere for you with a dress code that will allow you to feel free, giving you a sense of security, guaranteeing an incredible night full of fun. In addition, enjoy unique parties with all kinds of artists, resident DJs, live music, as well as personalized shows and performances.
Le Blanc Spa Resort Cancun
Our next option is considered the best hotel in Cancun and which has been awarded with the AAA Five Diamond award is the Le Blanc Spa Resort Cancun. An all-inclusive hotel that, like the previous one, manages a concept of lodging for couples.
Remember at the beginning of this article we mentioned that some hotels for adults have a quieter and more romantic atmosphere? Well, Le Blanc Spa Resort is one of them.
In a nutshell, here you won't find loud parties during the day or at night. Here you will find a more romantic and relaxed atmosphere, ideal to celebrate your honeymoon in Cancun.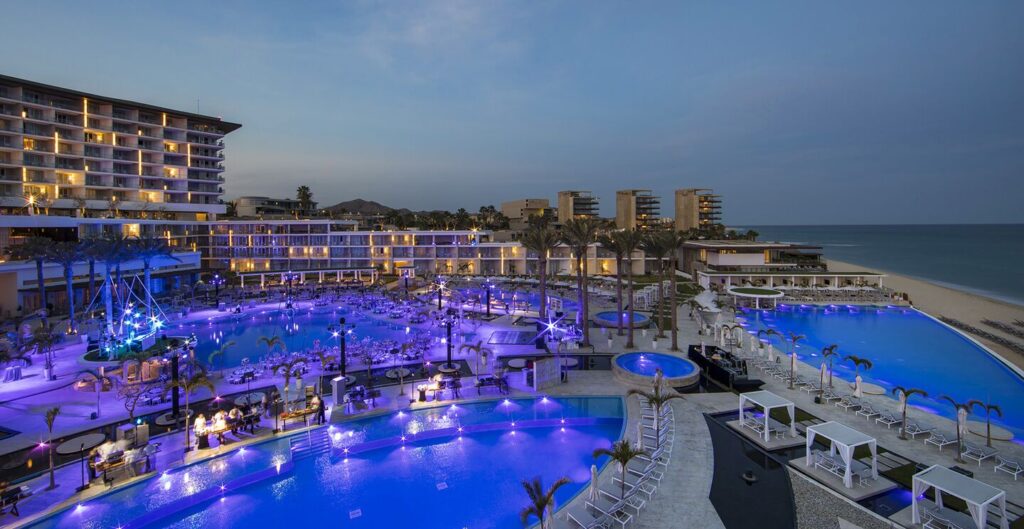 And of course, like the others, it has a list of activities designed for couples or solo, such as yoga classes, Paddle Yoga, Aquatic Spinning, Pilates, and of course we can not leave out its 3 pools, sauna, steam room and 13 restaurants where you will delight you with its gastronomy.
Secrets The Vine Cancun
The Secrets The Vine Cancun is another peculiar hotel of luxury and elegance that has a AAA Four Diamond rating and distinction that you have to consider among your honeymoon options in Cancun.
In its entirety the hotel is an Unlimited-Luxury, but more than just a phrase it is the hotel's commitment to all its guests to redefine the all-inclusive concept by fulfilling their every desire and exceeding their expectations. It includes all the amenities you would expect from a world-class destination and much more.
Among the list of amenities that Secrets The Vine has for you and your partner are unlimited access to a la carte gourmet dining options with no reservations required, unlimited domestic and imported beverages, unlimited fresh juices and sodas, 24-hour room service and concierge service, Waiter service at the beach and pool, Mini bar restocked daily with sodas, juices, bottled water and beer, Daily room cleaning service, Endless daytime activities and live nightly entertainment, Theme parties, beachfront bars and entertainment venues.
It is worth mentioning that the resort has 6 restaurants, and has one of the best ratings in most tourist platforms such as TripAdvisor, Booking and Google Map.
Live Aqua Beach Resort Cancun
Live Aqua Beach Resort Cancun promises to awaken all your senses with the sensory delight it has prepared for you and your partner.
This resort is located at kilometer 12.5 of the hotel zone, very close to the main area of nightclubs, fun and entertainment and at the same time, very close to Plaza La Isla, Plaza Kukulcan and Plaza Luxury Avenue.
Nor can we leave out the nearby beaches, which have been ranked among the top of the best beaches in Cancun and among them we have the Playa Marlin, Plaza Forum, Playa Gaviota blue and Playa Mandala.
All these are attractions close to Live Aqua Beach Resort Cancun, but nothing really compares to the experience that will subtly touch your senses with aromas, flavors, colors, sounds and textures.
This is experienced in the rooms that become a fascinating and innovative refuge that surprises with an aromatherapy menu and beautiful ocean views. Also the smell and taste of the gastronomy of its 9 restaurants, 5 bars and don't forget that this hotel has a relaxing spa for adults.
Oasis Sens del Mar
It could be said that the name "Oasis" belongs to one of the most prestigious hotel chains in the city and in which we find several locations: From 3-star accommodations, to the most exclusive family resorts, for children and for adults.
We will talk about the Oasis Sens del Mar resort in particular, which as such is not an adults-only hotel, but it deserves to be on our list, as it is the favorite of thousands of young couples looking for healthy fun, adventure, and enjoy the benefits of the Caribbean climate.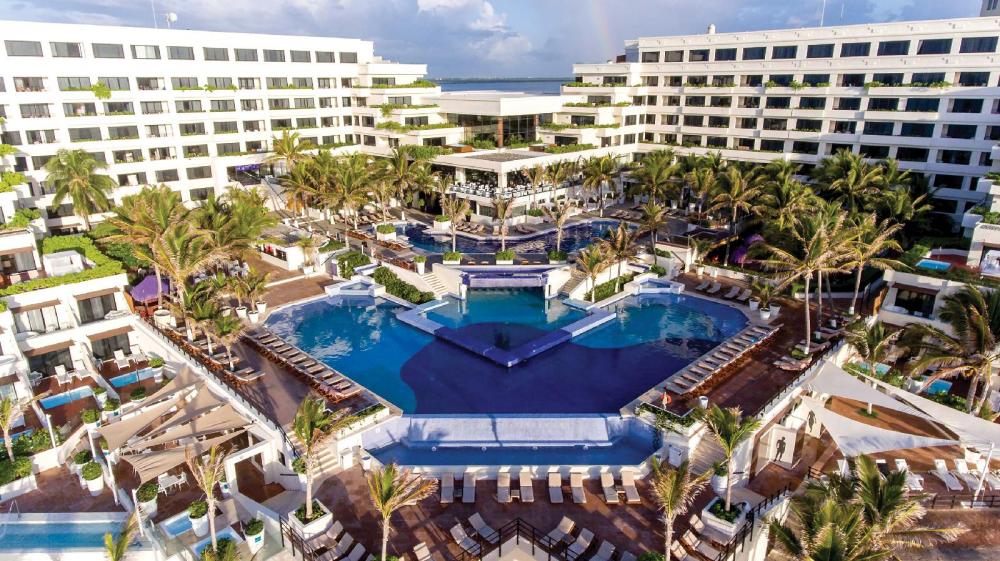 Being an all-inclusive resort, the gastronomic experience is fundamental, that is why among our culinary options you will be able to savor different flavors; the most representative of international dishes, the most delicious Mexican antojitos, the refined French cuisine, Italian favorites and much more. Undoubtedly here, both you and your partner will have a great time.
Conclusion
Our list of adults-only hotels in Cancun may be short, but rest assured that each of these resorts was chosen just for you. On the other hand, don't forget that many of these accommodations allow access to their facilities without the need of being a guest. For example: if you are looking for a Cancun spa for adults, you can contact the hotel management directly and ask for the cost of access to the facilities.
Related article