Surely you have already heard about the magical town of Bacalar and this is one of the reasons why you have come here. Well, you want to make your vacation stay, something completely magical and we want to help you with these recommendations of the best hotels in Bacalar.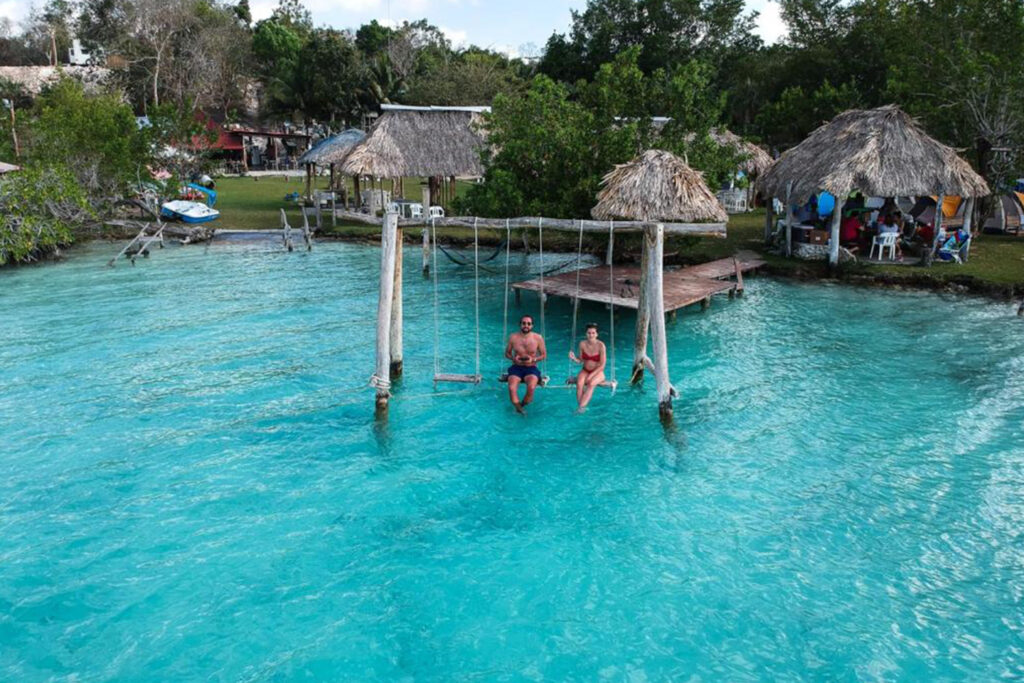 Best Hotels in Bacalar
The best hotels in Bacalar as such, are those that are close to the lagoon of the 7 colors. But this does not mean that there are other very good hotels outside this point. And of course in Hoteles.top we will give you our list of recommendations. So let's go straight to the post.
Blue Palm Bacalar
We start our list of accommodations in Bacalar, recommending first of all this 5 star resort called Blue Palm Bacalar.
The Blue Palm is a simple but elegant hotel that is perfect for couples, since its rooms are mainly for two people. It is worth mentioning that the hotel has a restaurant, outdoor pool, bar and garden, all the rooms have views of the pool and during the morning, you can enjoy a rich continental breakfast.
This 5 star resort in Bacalar, as such, is not located on the 7-color lagoon, but very close to it and also near the famous pirates' canal.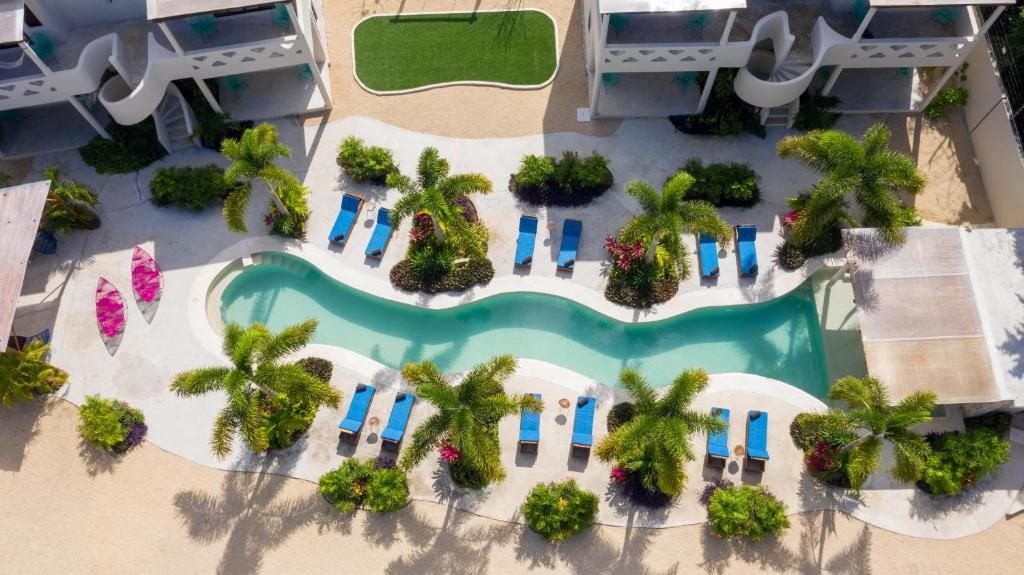 Pier Hotel Bacalar
Would you like to spend your days off in Bacalar in an all-inclusive lagoon front hotel? If your answer is yes, then run and book your room right now at Pier Bacalar Hotel.
This is a 5-star all-inclusive hotel that guarantees you the best vacation in the region. It offers an all-inclusive plan, where you can enjoy food and alcoholic and non-alcoholic beverages a la carte.
And of course, being in front of the lagoon, you can't miss its facilities for water sports such as sailing, pontoon, kayak and boat.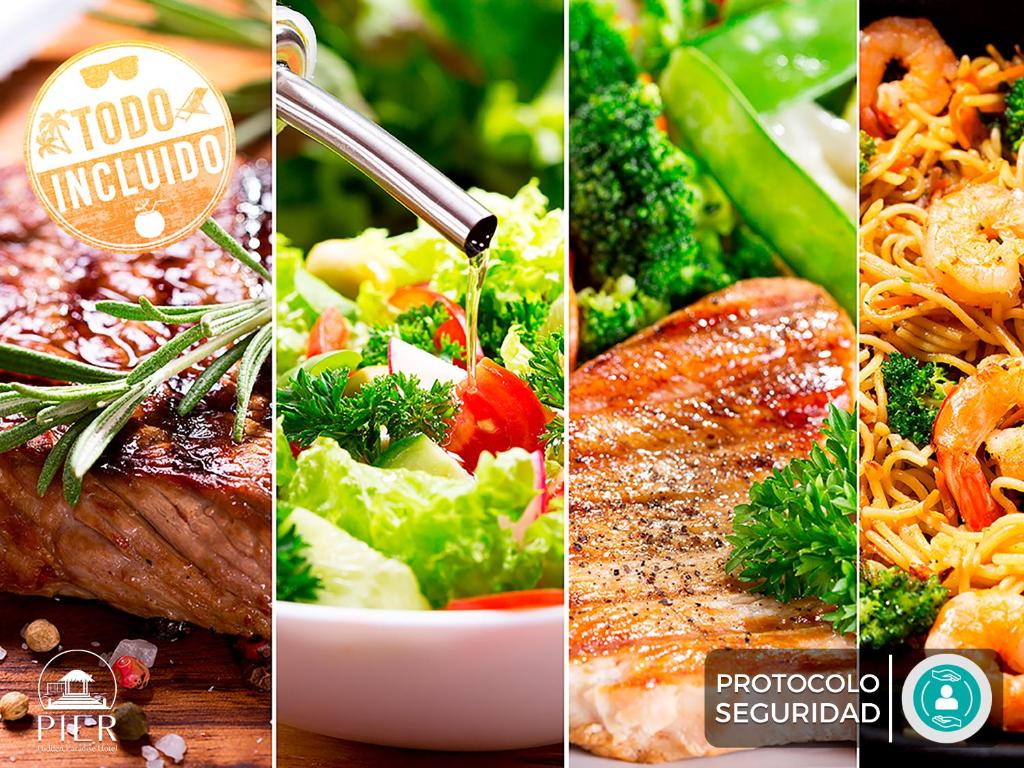 Carolina Hotel
The Carolina Hotel is another resort that we cannot leave out and although it is not located in front of the lagoon, it does have a private beach and very close to the Piraras Channel.
This place has a rustic look, which resembles a very comfortable and beautiful cabins. Its rooms are mainly for two people and although it has a private beach, the 3-star lodging also offers an outdoor swimming pool.
Casa Shiva Bacalar by MIJ
The accommodations that we can find in Bacalar will never cease to amaze us, for their design, their structure and their charm. If you don't believe me, just take a look at the pictures of Casa Shiva Bacalar by MIJ.
As such, it is considered a 5-star hotel and offers beautiful beachfront cabins, bungalows and rooms for two people, as well as family rooms. But this is not all, since most of the lodging options offered by this Bacalar lodging are with a view of the lagoon.
It is worth mentioning that this place is not close to the 7 colors lagoon, but it is close to Pajaro Island, a very famous island full of life that you have to visit.
Mia Bacalar Luxury Resort & Spa
Bacalar has a very large trail of canals and lagoons. This is one reason why many of the best accommodations offer oceanfront stays that fill us with water activities every day. Well, the Mia Bacalar Luxury Resort & Spa is one of them.
It is a beautiful 5-star hotel and features a restaurant, outdoor pool, fitness center and bar. It is also an excellent place to travel with family, since its rooms have a maximum capacity of up to 6 people.
La Galuna Bacalar
Whether you are traveling as a couple or as a family in Bacalar, La Galuna Bacalar is another resort to consider.
The hotel has a 4-star concept and is not located in front of the lagoon, like most of the vacation rentals mentioned above. But it is not far from it either, so you can walk there without any problem.
We know that Bacalar's main attraction is the lagoon and that's why, when looking for the best hotels in Bacalar, most people prefer beachfront accommodations. Well, this hotel does not have that "privilege" but precisely because of that, I look for alternatives to them and it has a beautiful, elegant and refreshing swimming pool.
Not to mention its rooms, which are spacious, elegantly decorated and equipped with everything you need to forget about life's problems.
XO Hotel Laguna Bacalar
Our last surprise option for all our dear readers is the XO Bacalar Lakefront Hotel Experiences. A pleasant 4-star beachfront accommodation in Bacalar and features a restaurant, outdoor pool and garden.
The establishment has family rooms, terrace and the hotel rooms have air conditioning, closet, patio overlooking the lake, private bathroom, flat screen TV, bed linen and towels.
Khaban Bacalar Hotel Boutique
Bacalar is a place to enjoy and this is something that Khaban Bacalar Hotel Boutique knows very well. As its name suggests: It is a boutique hotel in front of the Bacalar lagoon and which has the look of an elegant cottage.
The place has a 4-star rating and is perfect for visiting the magical town with your family, your partner or your friends.
The cabins can accommodate up to 8 people, have a terrace, hammocks and as if this were not enough, there is a dock where you can enjoy watching the sunsets, have breakfast, lunch or even dinner.
Aurea Boutique Hotel
Did you love the previous Bacalar hotel? If you loved that hotel but want to know other options of cabins where you can stay and of course, with private dock and in front of the lagoon then take a look at the Boutique Hotel Aurea.
The hotel offers Kayak, Paddle board and breakfast totally free during the days of your stay and also the rooms are spacious, allow you to take advantage of the daylight and can accommodate 2, 3 or even 4 people.
Are you one of those who travel with pets? Then your dogs and cats are welcome in all the facilities. As if all this were not enough, the Bacalar boutique hotel offers a Bacalar Lagoon Excursion for an additional cost, in which you will sail on a sailboat and visit the 3 most famous places in the lagoon: the Pirates Channel, the Black Cenote and the Island of the Birds.
Akalki Hotel and Holistic Center
In the city of Tulum is not the only place where you can vibrate high, you can also do it at Akalki Hotel and Holistic Center.
It is a beautiful hotel in Bacalar that was created as a holistic center with the mission to reintegrate the human being to a harmonious state with nature, the community in balance and in a sustainable way….
It has rooms for couples, a 4 star classification and also among its facilities we can find:
PALAPA SELVA which is surrounded by vegetation, the space offers privacy for the best practices and coexistence.
SHALA: Shala is the main house of our activities yoga, bowls, dance, meditation, allowing to connect body, mind and spirit.
TEMPLO: It gathers the wonderful creativity of diverse artists, architects, bioengineers, sculptors, painters, artisans and even volunteers.
No doubt, here you will come to relax, connect and vibrate high !
Conclusion
Our list of the best hotels in Bacalar encompasses without a doubt the best selection for you. Whether you are traveling with your partner, with your family or alone. But without a doubt, these accommodations will make your short or long stay in the region a true travel experience.
Tags: hotels in bacalar, hotels in bacalar quintana roo, hotels in bacalar facing the lagoon, hotels in bacalar overlooking the lagoon, hotels in bacalar pet friendly, hotels in bacalar with pool, hotels in bacalar quintana roo all inclusive, hotels in bacalar 5 stars, h, hotels in bacalar by the lagoon, hotels in bacalar by the lagoon, hotels in bacalar with air conditioning, hotels in bacalar with access to the lagoon, hotels in bacalar booking, hotel in bacalar boutique, nice hotels in bacalar, cheap hotels in bacalar with breakfast included. hotels in bacalar center, hotels in bacalar with breakfast included, hotels in bacalar with beach, luxury hotels in bacalar, best hotel in bacalar quintana roo, hotels bacalar quintana roo mexico